How to choose a motorcycle jacket for travelling
Posted by Ianna Dante on
Waterproof, perforated or four-season: the perfect touring equipment
Before setting out on a motorcycle trip, it's a good idea to consider the weather conditions that you might encounter.
From the most temperate to the coldest and wettest climates, there's an ideal solution for safe and comfortable travel.
In tackling adverse conditions, it's best to opt for jackets with a waterproof membrane, fixed or removable.
In changeable climates, the most practical solution may be a four-season jacket or a perforated one with a removable membrane.
Even in intense heat, you need to protect yourself. A perforated jacket is the best travel companion in this situation.
When packing, whatever the destination or season, a raincoat, sweater and t-shirt are all essentials. When traveling by bike for more than one day – and rider experience is invaluable here – the same applies, but things get more complicated. You need to choose a versatile jacket that can work in every climate, even in freak weather, and is comfortable to wear during any kind of ride. Which jacket should you choose? Nowadays there are a number of solutions, which vary in terms of their construction methods and fabrics. 
The four-season motorcycle jacket
As the name suggests, this is a jacket that can adapt to any climate and any weather situation. It does so with its membrane in waterproof material (such as Gore-Tex® and D-Dry ®), which is attached directly to a removable thermal layer, and the modularity with which you can transform the garment. So by adding or removing layers and playing with the many large air vents, you go from a ventilated jacket for warmer climates to a warm, waterproof jacket for colder or wetter days. This is the ultimate, most versatile solution of all.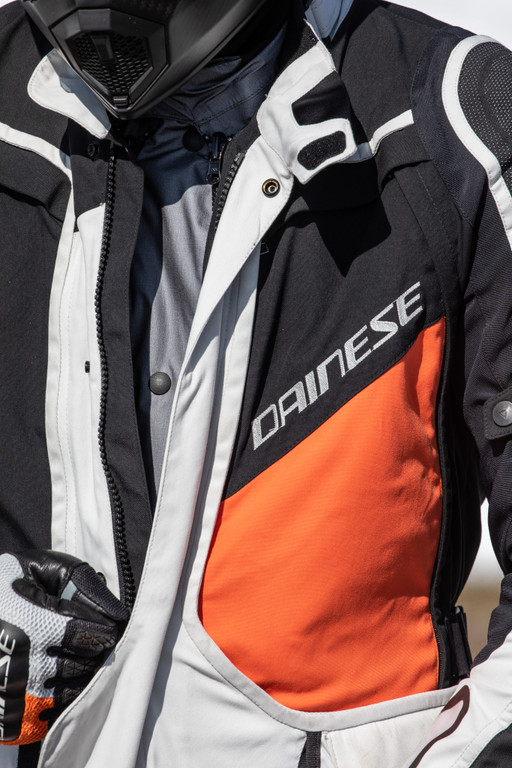 Motorcycle jacket with floating waterproof membrane and removable thermal lining
One of the most effective solutions for travelers facing generally cooler climates is the jacket with floating waterproof membrane and removable thermal layer. The exterior of the jacket is coupled with a fixed, non-removable waterproof membrane. The main advantage of this construction is insulation from the cold, guaranteed by the warm air cushion that is created between the exterior and the membrane when the user is wearing the garment. Beneath the outer shell is a second layer, the thermal lining, which can be worn separately in many cases. It can be removed in warmer climates. Floating membrane jackets are, by their very nature, the least ventilated, due to the characteristic waterproof membrane that stops the flow of fresh air to the body, even once the air vents are open.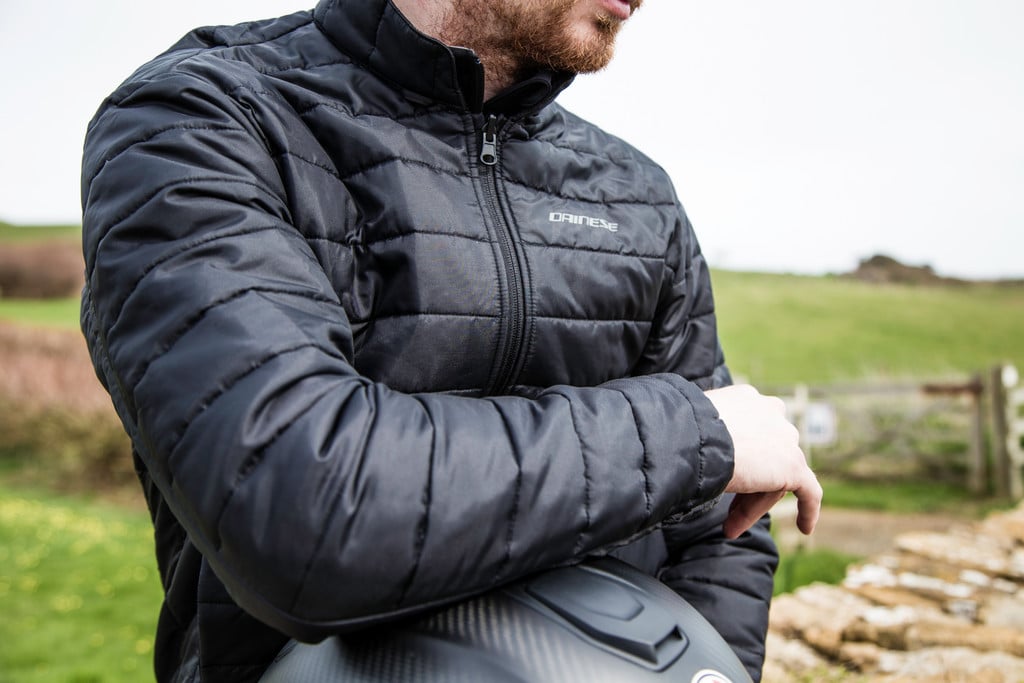 Motorcycle jacket with laminated waterproof membrane
When tackling wetter climates, riders particularly appreciate garments with a laminated waterproof membrane, meaning those where the waterproof layer is coupled with the external fabric. The biggest benefit of garments with this construction is their effectiveness in the rain, as they don't get drenched even after prolonged exposure. And because of this very feature, the drying time is definitely faster than for other solutions. 
The air vents on a laminated garment are more effective than those on garments with a floating membrane. This is because with laminated garments, the particular construction of the openings allows air to pass without meeting the membrane shield. Ventilation is therefore direct onto the body. This kind of air vent requires a watertight zipper closure.   
The ventilated motorcycle jacket with removable waterproof membrane
Particularly suited for riders traveling in milder climates, a ventilated jacket with a removable waterproof membrane combines a lower overall weight with increased breathability, due to its ventilated fabric construction on the chest and back that ensures a continuous flow of fresh air and the escape of warm, moist air.  
At the same time, the removable membrane makes it suitable for uncertain weather conditions or situations where you face lower temperatures during the day, when going from the plains to the mountains for example, or even when heading out for an evening ride on the coast.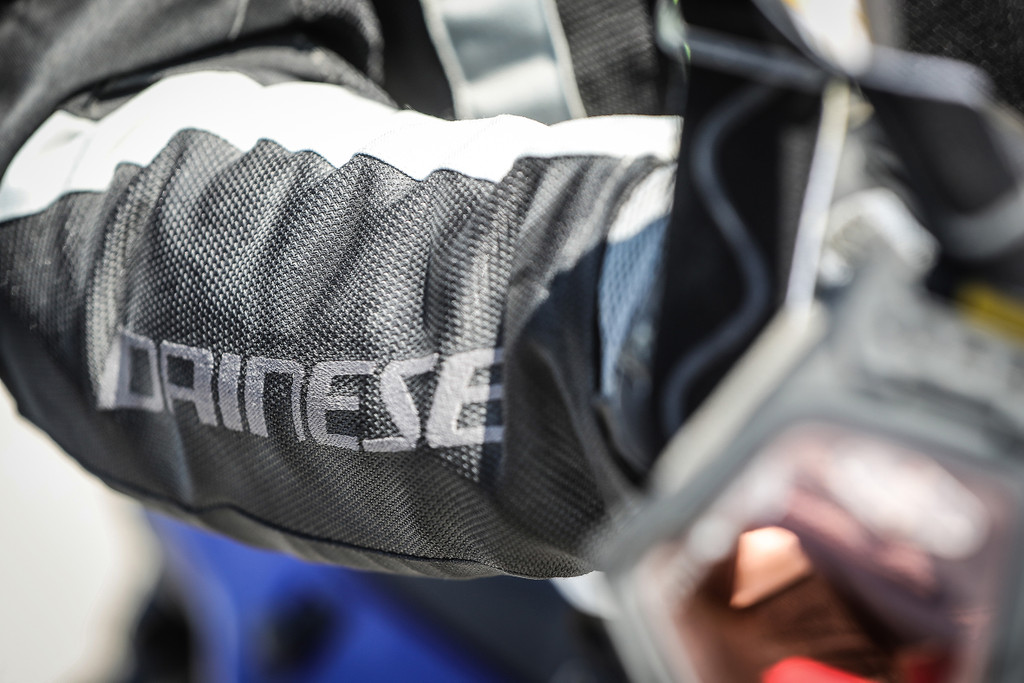 Summer motorcycle jacket
Summer jackets deserve a chapter of their own. These motorcycle jackets are very light and well-ventilated with an aerated fabric construction on the chest and back. They are the perfect solution for the hottest, sunniest days.  
It can be tempting to ride in short sleeves in these cases, but let's not forget the side effects. In addition to the obvious safety issues caused by the lack of a technical garment, a perforated and ventilated jacket also protects skin from the sun. So at the height of summer, a light and protective jacket is our best companion on any ride.  
One extra tip: stay alert
As we conclude this overview, we have just one last piece of common-sense advice to impart before you head out on a long bike trip: always be ready for the unexpected. If you head out on multi-day trips or venture into areas with variable weather, regardless of the jacket you choose to wear for the occasion, it's always a good idea to have a rain suit with you, so that you can stay dry even in a downpour. 
Credits: demonerosso.dainese.com
---
Share this post
---
---
---
0 comment